Key events
Kanye West "marries" Australian designer: reports
The world's tabloid online media is awash this morning with reports of an apparent "marriage" between controversial rapper Kanye West – now known as Ye – and Australian designer Bianca Censori.
In recent months Ye has unloaded a flurry of anti-semitic remarks, taken to praising Adolf Hitler and posting an image of a swastika inside a Star of David on his Twitter account – the latter getting him thrown off that social media site.
In case you don't want to quickly rush away to search for all the news, photographers have reportedly seen the pair wearing wedding rings and they went on a holiday to a "posh Utah resort" which is being reported as a honeymoon.
TMZ reports that: "Despite the wedding ceremony, the union isn't legal because the pair do not appear to have filed a marriage certificate."
Elle reports Censori works as a designed at Ye's company Yeezy.
All this comes after Ye and his ex-wife Kim Kardashian reached a divorce settlement last November.
Morning. Graham Readfearn with you now. Thanks to Martin Farrer for covering the first hour of the day.
Vatican mass for deceased George Pell late on Saturday
The Vatican mass for George Pell will be held at 11.30am local time in Rome today, which is 9.30pm AEDT today.
The mass will be held at St Peter's Basilica in the Vatican, the same church where the funeral for former pope Benedict was held last week, Australian Associated Press reports.
Pope Francis will give a final commendation for Pell, Australia's most senior Catholic, who died in Rome this week aged 81.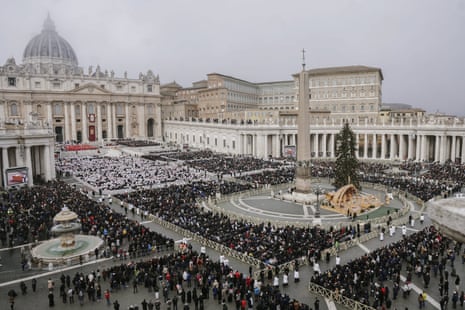 In keeping with tradition for deceased cardinals, the mass will be said by the dean of the College of Cardinals, Italian Giovanni Battista Re, and the Pope will give the final blessing and commendation.
The cardinal will also be remembered in a funeral at St Mary's Cathedral in Sydney, before being interred at St Mary's crypt, but no date has been set.
NSW premier Dominic Perrottet and Victoria's Daniel Andrews ruled out holding state services for the former archbishop of Melbourne and Sydney.
Andrews said on Thursday a state funeral or memorial would be distressing for victim-survivors, but the cardinal's legacy would be for others to judge.
North Queensland on flood alert
After a week that saw devastating floods in Western Australia, Queensland's north coast is on alert for potentially life-threatening flash flooding as a monsoon trough brings severe thunderstorms and intense downpours to the region.
The Bureau of Meteorology says six-hour rainfall totals between 100 and 180 mm are likely and isolated 24-hour totals of more than 300mm possible along a 450km stretch of coast between Innisfail and Bowen and inland areas on Saturday and into Sunday, Australian Associated Press reports.
It has issued flood watch notifications for Charters Towers, Bowen, Townsville, Palm Island, Ingham, Innisfail, Ayr, Cardwell, Giru, Abergowrie, Clare and Lucinda. The bureau said:
Locally intense rainfall which may lead to dangerous and life-threatening flash flooding is also possible over small portions of the warning area during this period.
A vast swathe of inland central and northern Queensland could also see moderate to major flooding with 17 catchments placed on flood watch.
Queensland Fire and Emergency Services warned residents to keep up to date with warnings and alerts and not to attempt to drive through floodwaters.
Police echoed the caution as the "extraordinary weather" set in over the next several days. In a statement they said:
Trying to navigate these hazards, either in vehicles or on foot, can be treacherous, as water levels rise and fall quickly and very often with little or no warning."

Emergency services are struggling to comprehend why some motorists ignore notice signs and warnings that are erected on flooded roads.
Good morning and welcome to our rolling news coverage this Saturday morning. I'm Martin Farrer and I'll get you started with the top stories overnight before my colleague Graham Readfearn takes the wheel.
The travails of New South Wales premier Dominic Perrottet continue to dominate the headlines with the focus really now not so much on his donning of the Nazi uniform but who within the Liberal party wanted to use the revelation to damage him. Our state political reporters Michael McGowan and Tamsin Rose report that one insider says it's a bit like the film Knives Out – "there are about 20 people who it could've been and they all had a motive". Ouch.
The other big story of the week was the death of George Pell and, as the Vatican prepares to honour him later today with a funeral mass at St Peter's Basilica in Rome, we look at the cardinal's significant political legacy. Pell forged strong links with conservative politicians such as John Howard and Tony Abbott, writes our reporter Christopher Knaus, and "was afforded a degree of power and influence few other religious leaders could boast".
It's been another lively night in America with Donald Trump's business empire, the Trump Organization, sentenced in a New York court to the maximum allowable fine of $1.6m for a tax fraud scheme going back at least 10 years.
One of our Washington reporters, Chris Stein, says that although the fine itself is relatively small for a huge business, the symbolism of a criminal conviction for an entity so close to the former president is significant.