Trump Organization fined $1.6m in tax fraud case
A judge in New York has ordered Donald Trump's business to pay $1.6m after it was found guilty of tax charges:
Key events
Biden to address voting rights, civil rights in sermon at MLK church
Joe Biden this weekend will become the first sitting US president to speak at a Sunday service at Ebenezer Baptist church in Atlanta, Georgia, where civil rights leader Martin Luther King Jr was a pastor.
Biden is expected to address the ongoing struggle to protect voting rights in the US, despite his failure a year ago to persuade Congress to pass key related legislation, to the exasperation of activists and organizers, especially in Georgia and the south.
At the White House press briefing ongoing now, former Atlanta mayor Keisha Lance Bottoms, now senior adviser for public engagement at the White House, talked of the importance of the president's visit this Sunday, ahead of Martin Luther King Day, the federal holiday that marks the birthday of the assassinated icon.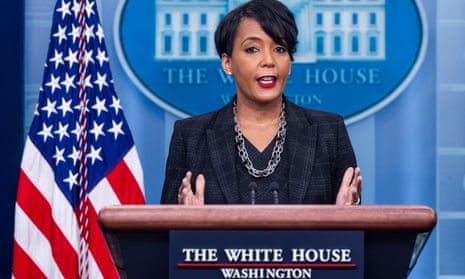 She said that there was "more work to do" to protect democracy and acknowledged that the Biden administration's two pieces of voting rights legislation have not made it through Congress.
She noted that Biden has been invited to the church by Georgia's recently re-elected Democratic senator Raphael Warnock, who is a pastor at the Ebenezer Baptist church. The church was also regularly attended by the late congressman and lifelong civil rights activist John Lewis.
Biden will meet members of King's family and leaders of the civil rights movement in Atlanta during his visit on Sunday and Monday.
Lance Bottoms joined press secretary Karine Jean-Pierre, who pointed out that she and the former mayor are examples of "Black women who have broken barriers" on the shoulders of the civil rights movement.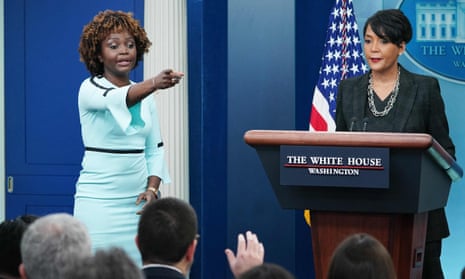 Donald Trump's organization was fined $1.6m by a judge after being convicted of tax fraud charges, but the Manhattan district attorney hinted that's not the end of his investigation into the former president's businesses. Meanwhile in Washington, the Treasury secretary warned the US government will hit its legal borrowing limit on Thursday and could default in the summer, unless Congress acts to increase it. Republicans controlling the House have said they won't cooperate unless government spending is cut, ensuring this is going to turn into a big fight at some point.
Here's what else has happened today so far:
Joe Biden doesn't trust his Secret Service detail, according to a new book about his presidency.

The top House Republican government watchdog is trying to link his investigation into Hunter Biden's business dealings with the inquiry into classified documents found at the president's properties.

Special counsel Jack Smith wants to talk to two people hired by Trump's attorneys to look for any secret materials in his possession.
US to hit debt ceiling on 19 January, Treasury says, but default months away
The US government will hit the legal limit on how much debt it can carry on 19 January, but it should have enough money to operate until at least early June, Treasury secretary Janet Yellen said Friday.
"I am writing to inform you that beginning on Thursday, January 19, 2023, the outstanding debt of the United States is projected to reach the statutory limit. Once the limit is reached, Treasury will need to start taking certain extraordinary measures to prevent the United States from defaulting on its obligations," the secretary wrote in a letter to Republican House speaker Kevin McCarthy.
"While Treasury is not currently able to provide an estimate of how long extraordinary measures will enable us to continue to pay the government's obligations, it is unlikely that cash and extraordinary measures will be exhausted before early June."
Republicans in the House have signaled they won't agree to increase the debt ceiling unless the Biden administration and its Democratic allies in Congress agree to reduce spending, though it remains unclear what areas of the budget the GOP wants to cut. Raising the borrowing limit is one of the few pieces of leverage House Republicans have over the Democrats, but the strategy is not without risks. A failure to increase the ceiling could lead to the United States defaulting on its debt for the first time in its history, likely with serious consequences for the economy.
The Republican-controlled House Oversight Committee is attempting to make two alleged scandals into one: the investigation of classified materials found at Joe Biden's properties, and their inquiry into his son Hunter Biden's business activities.
The committee's chair James Comer has sent the White House a new demand for information about whether Hunter had access to the garage at Joe Biden's Delaware residence where it was revealed yesterday some classified material was found:
Even before Biden took office, Republicans have been trying to find evidence of corruption in Hunter Biden's business dealings, and of his father's involvement. They have had mixed results in doing that, but this week's revelations that classified materials were found at Biden's residence and an office he once used in Washington DC have given them new material to attack his administration. Yesterday, the justice department appointed a special counsel to look into the matter.
The trial of members of the Proud Boys militia group over their involvement in the January 6 insurrection is continuing in Washington DC, today with testimony from a Capitol police officer.
Thomas Loyd's testimony contains fresh reminders of the violence that day, as Politico reports:
Joe Biden doesn't trust his Secret Service detail, fearing that some of them remain loyal to Donald Trump, Vox reports, citing a new book about his presidency.
"The Fight of His Life" by Chris Whipple chronicles the past two years of Biden's presidency from a positive perspective, according to Vox, and in particular shows the degree to which he loathes his predecessor. Biden, for instance, believes the White House's Resolute desk was "tainted" by Trump's use and unsuccessfully asked to swap it out for one used by Democratic icon Franklin D Roosevelt.
When it comes to the Secret Service, he minds what he says around them, believing that agents harbor sympathies for the former president. He also thinks they lied about an incident where his dog Major bit an agent.
Reached by Vox, the White House wouldn't comment directly on the book's content.
Joe Biden's allies in Congress are calling on him to revoke the visa of Brazil's former president Jair Bolsonaro, after his supporters attacked the country's capital while he was in Florida:
Dozens of Democratic lawmakers, including some of the top members of the House foreign affairs committee, sent a letter to Joe Biden on Thursday demanding former Brazilian president Jair Bolsonaro's diplomatic visa be canceled in the wake of the rampage in Brazil's capital by his supporters.
"We request that you reassess his status in the country to ascertain whether there is a legal basis for his stay and revoke any such diplomatic visa he may hold," said the letter. It continued: "The United States must not provide shelter for him, or any authoritarian who has inspired such violence against democratic institutions."
The letter was led by Democrats Joaquin Castro of Texas, Gregory Meeks of New York, Ruben Gallego of Arizona, Chuy Garcia of Illinois and Susan Wild of Pennsylvania.
The $1.6m fine the Trump Organization was ordered to pay is nothing compared to what rightwing groups are spending to support efforts to chill ballot box access, Brendan Fischer and Ed Pilkington report:
The advocacy arm of the Heritage Foundation, the powerful conservative thinktank based in Washington, spent more than $5m on lobbying in 2021 as it worked to block federal voting rights legislation and advance an ambitious plan to spread its far-right agenda calling for aggressive voter suppression measures in battleground states.
Previously unreported 2021 tax filings from Heritage Action for America, which operates as the foundation's activist wing, shows that it spent $5.1m on contracting outside lobbying services. The outlay comes on top of $560,000 the group invested in its own in-house federal lobbying efforts that year, as well as registered lobbying by Heritage Action staffers in at least 24 states.
The 990 tax filing was obtained by the watchdog group Documented and shared with the Guardian. It points to the pivotal role that Heritage Action is increasingly playing in shaping the rules that govern US democracy.
The verdict is actually slightly more complex than it appears.
There were two companies belonging to the former president on trial: The Trump Corporation and The Trump Payroll Corp. The former was given the maximum fine of $810,000 after being convicted of nine felonies, while the latter was ordered to pay $800,000, also the maximum, for eight felony convictions.
That adds up to the $1.6m total fine – not very much for such a big company, and one reason why Manhattan district attorney Alvin Bragg has called for the state to increase the maximum penalties for these sorts of crimes.
In comments following the Trump Organization's sentencing, Manhattan district attorney Alvin Bragg hinted that Donald Trump has not heard the last from his prosecutors.
The Daily Beast captured the moment:
Manhattan district attorney Alvin Bragg has cheered the sentence against the Trump Organization, noting it was the first time Donald Trump's business had been convicted on criminal charges.
"Today, former President Trump's companies were sentenced to the maximum fines allowed by law following historic convictions for a total of 17 felony crimes," Bragg said in a statement.
"Chief Financial Officer Allen Weisselberg, The Trump Corporation, and The Trump Payroll Corp. conducted and benefitted from sweeping fraud for well over a decade. While corporations can't serve jail time, this consequential conviction and sentencing serves as a reminder to corporations and executives that you cannot defraud tax authorities and get away with it. It is also an important reminder that our state law must change so that we can impose more significant penalties and sanctions on corporations that commit crimes in New York."
Bragg, who is also pursuing another investigation of the company's financial statements, noted the verdict "represents a significant chapter of our ongoing investigation into the former President and his businesses."
Trump Organization fined $1.6m in tax fraud case
A judge in New York has ordered Donald Trump's business to pay $1.6m after it was found guilty of tax charges:
As we wait for the sentencing of the Trump Organization, CNN reports that special counsel Jack Smith's office wants to interview two people hired by the former president's legal team to search his properties for classified documents.
The justice department has for months been trying to get to the bottom of Donald Trump's possession of classified material, which sparked the August search of his Mar-a-Lago resort. Since then, Trump's attorneys have been combing other properties for any government secrets that may be stored there. CNN reports that Smith, who attorney general Merrick Garland appointed in November to handle the inquiry into the Mar-a-Lago secrets and Trump's campaign to overturn the 2020 election, is demanding the unnamed people hired to carry out the search be interviewed.
Here's more from CNN's report:
Prosecutors from special counsel Jack Smith's office and Trump's defense lawyers have gone back and forth several times in the past two months over whether Trump has fully complied with a subpoena issued last May for classified documents from his time in the White House.

That has prompted Trump's lawyer Timothy Parlatore to twice certify in writing that Trump's team searched his homes and offices for more records. The new rounds of certifications haven't been reported previously.

Some of Trump's properties, such as at his golf course in Scotland and his Las Vegas hotel, weren't searched, yet Trump's team believed they did a thorough job, looking everywhere they believed presidential records might have been, sources say.

In a statement, Parlatore told CNN that the Justice Department has "rejected offers of cooperation in favor of heavy-handed tactics to create a false impression of noncompliance in the absence of evidence."

Parlatore added: "President Trump did nothing wrong and a proper investigation would have concluded months ago, amicably, without the significant waste of taxpayer resources."

The Justice Department declined to comment.
You may have heard Donald Trump is running for president again – but not much more than that. The former president's new bid for the White House hasn't quite had the vigor of his first, successful campaign in 2016, but as the Guardian's Hugo Lowell reports, he's looking to change that:
Donald Trump is scheduled to venture out of his Mar-a-Lago resort and conduct a swing of presidential campaign events later this month, ramping up efforts to secure the Republican nomination after facing hefty criticism around the slow start to his 2024 White House bid, according to sources familiar with the matter.
The former US president is expected to travel to a number of early voting states for the Republican nomination – the specific states have not been finalized – around the final weekend of January, the sources said, where he is slated to announce his state level teams.
The move comes after a slow start to the campaign and an announcement speech at Mar-a-Lago that has been widely panned as "low energy" and inactive in terms of events, further knocking Trump's political image after key Senate candidates he endorsed in November's midterms faced embarrassing defeats.
That has apparently given enough confidence for a host of Republicans to prepare their own White House runs and though Trump says he believes a wide field will be beneficial, he seems set to face possible candidates including Florida governor Ron DeSantis and ex-cabinet officials like Nikki Haley.
In order to win their conviction against the Trump Organization, prosecutors in Manhattan first went after Allen Weisselberg, the company's former finance chief.
Weisselberg agreed to plead guilty to 15 tax charges and cooperate with Manhattan district attorney Alvin Bragg's prosecution of the former president's company. His testimony proved crucial to the guilty verdict a jury reached in December, and earlier this week, Weisselberg was given five months behind bars for accepting $1.7m in perks without paying taxes – a lenient penalty that came about only because of his cooperation.
Today, the Trump Organization is expected to be sentenced to pay $1.6m, a relatively small sum. But Bragg isn't done with the former president. The Manhattan district attorney argued that Trump was well aware of the tax evasion going on at his organization, and is reportedly pursuing another investigation into his company, this one looking at the integrity of his financial statements.
That's separate from New York attorney general Letitia James's lawsuit against Trump and his children alleging fraud, which is not to be confused with the federal investigations of the government secrets found at Mar-a-Lago, his plot to overturn the 2020 election and the January 6 insurrection. Those are being handled by special prosecutor Jack Smith.
Trump Organization to be sentenced on tax fraud charges
Good morning, US politics blog readers. We will direct your attention this morning away from Washington DC to New York City, where Donald Trump's business is at 9am eastern time scheduled to be sentenced on tax fraud charges. According to reports, the entity will probably be hit with fines totaling $1.6m, but that won't be the end of the story for Trump's legal troubles in the state. The New York attorney general, Letitia James, has a lawsuit against the former president and three of his children for inflating their net worth to get better loan terms, in what her office described as "staggering" fraud.
Here's what else is going on today:
Joe Biden welcomes Japan's prime minister, Kishida Fumio, to the White House this morning, before departing for Delaware.

The White House press secretary, Karine Jean-Pierre, will hold her daily briefing at 12.30pm, where reporters will no doubt demand more details on the classified documents found at two properties linked to the president.

The House and Senate will convene briefly, but no votes are expected.