Key events
Politico's chief Brussels correspondent Suzanne Lynch reports from Brussels that Lithuanian foreign minister Gabrielius Landsbergis has said he expects Germany will sign off on sending tanks to Ukraine at a key meeting of the Ukraine defence contact group at the Rammstein air base in Germany on Friday.
Helicopter crashes near kindergarten in Brovary, Kyiv region – reports
A helicopter has crashed near a kindergarten and residential buildings in the town of Brovary in Kyiv region, according to reports.
Oleksiy Kuleba, governor of Kyiv, has posted to Telegram to say:
In the city of Brovary, a helicopter fell near a kindergarten and a residential building. At the time of the tragedy, children and employees of the institution were in the kindergarten. At this point, everyone was evacuated. There are victims. Ambulances, police and firefighters are working at the scene of the crash.
The Guardian has seen an unverified image which appears to show at least one adult severely injured at the scene.
The state broadcaster Suspilne has posted to Telegram to say "Preliminarily, it is known about five injured people, there are also deaths due to the fall of a helicopter in Brovary."
It has been up on Twitter for more than 14 hours, bu still nobody at the Russian Embassy in Sweden has noticed that they map they pushed out yesterday to try and illustrate how Europe's energy prices are suffering because of sanctions against Russia shows Ukraine with its internationally recognised borders, including Crimea, Donetsk, Luhansk, Kherson and Zaporizhzhia, all areas of Ukraine that the Russian Federation claims to have annexed.
Russia's invasion of Ukraine and a changing world order are straining ties between France and Germany as they prepare to celebrate 60 years since a post-second world war treaty sealed their reconciliation, AFP reports.
Chancellor Olaf Scholz is expected in Paris on 22 January to meet President Emmanuel Macron before the pair lead a joint cabinet meeting to mark the Élysée treaty signed on 22 January 1963. But the two leaders' relationship is seen as cordial at best.
"Scholz isn't very European at all, he's much more 'Germany first'," a senior member of Macron's Renaissance party, who asked not to be named, told reporters this week.
In Paris, there's an impression of German "disinterest in the French-German relationship", said Jacob Ross, a researcher at the German Council on Foreign Relations (DGAP) in Berlin.
The frictions are even being felt by the public, with 36% of French respondents and 39% of Germans telling pollster Ipsos this week that relations were suffering.
But the legacy of the 1963 treaty – signed in Paris by Konrad Adenauer and Charles de Gaulle – remains strong on everything from military cooperation to youth exchanges.
Finland is prepared to support Ukraine in its war with Russia for as long as necessary, Finnish prime minister Sanna Marin said on Tuesday while speaking at the annual World Economic Forum in Davos.
"I think the only message that we need to send is that we will support Ukraine as long as needed. One year, two years, five years, 10 years, 15 years," Marin said.
In 2022, the Finnish government spent €300m on support to Ukraine, about €190m of it on buying defence equipment.
Two of three Nato surveillance planes deployed temporarily to Romania have arrived at an airbase near Bucharest, from where they will fly missions to monitor Russian military activity near the borders of the 30-nation military alliance, AP reports.
The Airborne Warning and Control System planes landed at Otopeni airbase on Tuesday afternoon, with one more expected later. They are due to be based there for several weeks.
The AWACS aircraft, which Nato refers to as its "eyes in the sky", belong to a fleet of 14 usually based in west Germany. They have large fuselage-mounted radar domes and can detect aircraft hundreds of kilometres away.
Earlier this week, Britain said it would donate a squadron of 14 of its Challenger 2 tanks to Kyiv, but that number is well below the 100 minimum that experts have said would be needed to allow Ukraine's forces to achieve a breakthrough against Russia.
However, there are more than 2,300 Leopard 2 tanks available or in storage across Europe in 13 countries, including Germany, and if a group of countries were to donate some of their tanks it could add up to a significant force on the battlefield.
Berlin's permission is needed to re-export the tanks because they were originally made in Germany, and it has been particularly cautious about making any move that could be interpreted by Moscow as a significant escalation. Politicians are also mindful of the country's second world war history.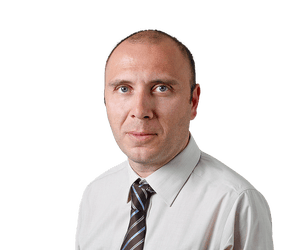 Dan Sabbagh
The British defence secretary, Ben Wallace, will join counterparts from Poland and the Baltic countries in Estonia to mount a final attempt to put pressure on Germany to authorise sending Leopard 2 tanks to Ukraine this week.
The meeting of so-called "Leopard coalition" of countries willing to or keen to see western tanks sent to Kyiv comes a day before a group of about 50 defence ministers assemble in Ramstein, Germany, to discuss future weapons shipments to Ukraine.
Defence sources said a purpose of the meeting on Thursday was "to encourage the Germans" if no decision has been made by Berlin before then, although the German chancellor, Olaf Scholz, is due to speak at the Davos summit on Wednesday afternoon.
Andrzej Duda, the Polish president, speaking at the Davos World Economic Forum on Tuesday, said a positive decision from Berlin to allow the re-export of German-manufactured Leopard 2 tanks was "very, very, very, very needed", and that a group of Nato countries wanted to come together to help form an armoured brigade that could be given to Ukraine:
Hello and welcome to our live coverage of the war in Ukraine. My name is Helen Sullivan and I'll be bringing you the latest for the next few hours.
Our top story this morning: the British defence secretary, Ben Wallace, a meeting to mount a final attempt to put pressure on Germany to authorise sending Leopard 2 tanks to Ukraine this week.
Defence sources said a purpose of the meeting on Thursday was "to encourage the Germans" if no decision has been made by Berlin before then, although the German chancellor, Olaf Scholz, is due to speak at the Davos summit on Wednesday afternoon.
More on this shortly. In the meantime here are the other key recent developments:
A search and rescue operation in the rubble of Saturday's Russian missile strike on an apartment building in the Ukrainian city of Dnipro has been completed, authorities said. The death toll currently stands at 45, including a child, the head of the Dnipropetrovsk region military administration said. At least 19 people are still missing and a further 79 people injured, according to local officials.

The Ukrainian presidential adviser Oleksiy Arestovych has tendered his resignation after a public outcry over comments he made suggesting the Russian missile that struck the building in Dnipro had been shot down by Ukraine. The Ukrainian air force says the apartment complex was hit by a Russian Kh-22 missile, which Kyiv does not have the equipment to shoot down.

Russia has announced it will make "major changes" to its armed forces from 2023-26, promising to shake up its military structure after months of setbacks on the battlefield in Ukraine. In addition to administrative changes, the defence ministry said it would strengthen the combat capabilities of its naval, aerospace and strategic missile forces.

More than 9,000 civilians, including 453 children, have been killed in Ukraine since Russia's invasion last February according to Ukraine. Andriy Yermak, the head of the Ukrainian presidential staff, said at the World Economic Forum in the Swiss resort of Davos, "We will not forgive a single [act of] torture or life taken. Each criminal will be held accountable.".

Ukraine's top general, Valerii Zaluzhnyi, spoke to his US counterpart, General Mark Milley, face to face near the Ukraine-Poland border for the first time. Milley, who is the chair of the Joint Chiefs of Staff, met for a couple of hours with Zaluzhnyi at an undisclosed location in south-eastern Poland on Tuesday. The pair have talked frequently over the past year but had never met.

Ukraine has urged world leaders to intensify efforts to remove Vladimir Putin's troops from its soil as its war with Russia dominated the first full day of the gathering of the global elite in Davos.

German Chancellor Olaf Scholz on Tuesday picked little-known Boris Pistorius to be Germany's new defence minister, putting him in charge of steering the armed forces through an era of momentous change. The appointment follows the resignation of Christine Lambrecht at a crucial time for the ministry, with Germany under intense pressure to send battle tanks to Ukraine.

The Dutch prime minister, Mark Rutte, has told Joe Biden that the Netherlands will offer Patriot missiles to Ukraine. The Netherlands will join the US and Germany in sending the Patriot missile defence system to Ukraine, Rutte told Biden at the White House. Biden thanked Rutte for being "very very stalwart" on its support for Ukraine.

The UK foreign secretary, James Cleverly, has justified the supply of Challenger tanks to Ukraine, saying it was designed to bring the war to a quick conclusion and there was a moral imperative to end the war soon due to the casualties and cost. His remarks seemed designed to encourage the US to step up its own weapons supply.

The EU executive has confirmed it is releasing €3bn in emergency aid for Ukraine, the first tranche of an €18bn fund intended to help run essential public services during winter.