Md Delwar Hossain: ICT Olympiad Bangladesh, the biggest competition in the field of information and technology, started in the joint initiative of Whistle and Creative IT Institute.
Read more: Coal extraction stopped again in Barapukuria
The official registration process for this program was inaugurated at KIB Complex in the capital on Thursday (July 28) afternoon. Along with that, the official website of ICT Olympiad Bangladesh was launched.
The program started by paying tribute to Bangladesh through the National Anthem presented by presenters Solaiman Ahmed Jisan and Sadia Roshni.
Mashrafe Bin Mortuza, former captain of the national cricket team and Member of Parliament, congratulated in a video message and said that following the path shown by Bangladesh architect Bangabandhu Sheikh Mujibur Rahman, his privileged daughter Deshratna Hon'ble Prime Minister Sheikh Hasina has transformed the country into digital Bangladesh. I am hopeful that ICT Olympiad Bangladesh will play a major role in equipping the youth of Bangladesh with world-class IT knowledge.
Eminent persons from ICT, education and research sectors of the country participated in the event.
Read more: Manisha is Pakistan's first Hindu woman DSP
Mr. Bikarna Kumar Ghosh, Managing Director of Bangladesh Hi-Tech Park Authority, Project Director and Joint Secretary of A-to-I, Mr. Dr. Dewan Muhammad Humayan Kabir, Honorable Member of University Grants Commission and Director of Bangladesh Communication Satellite Company Limited Mr. Dr. Md. Sajjad Hossain, former governor of Bangladesh Bank. Atiur Rahman, President of E-Commerce Association of Bangladesh Shami Kaiser, President of BCS Mr. Subrata Sarkar and President of Bangladesh-Malaysia Chamber of Commerce and Industry and former President of BASIS Mr. Syed Almas Kabi gave a congratulatory speech to make this competition a success. He assured cooperation.
A-to-I's National Consultant Mr. Md. Shahriar Hasan Jisan, President of A Story to Tell Mr. Iqbal Bahar Zahid, Convener of Women AGF Mrs. Farha Mahmud Trina, Adviser of Tilottma Chittagong Mrs. Sahela Abedin, E- Finance Secretary of CAB Mr. Asif Ahnaf, Chairman of Bangladesh Freelancer Development Society Dr. Tanjiba Rahman.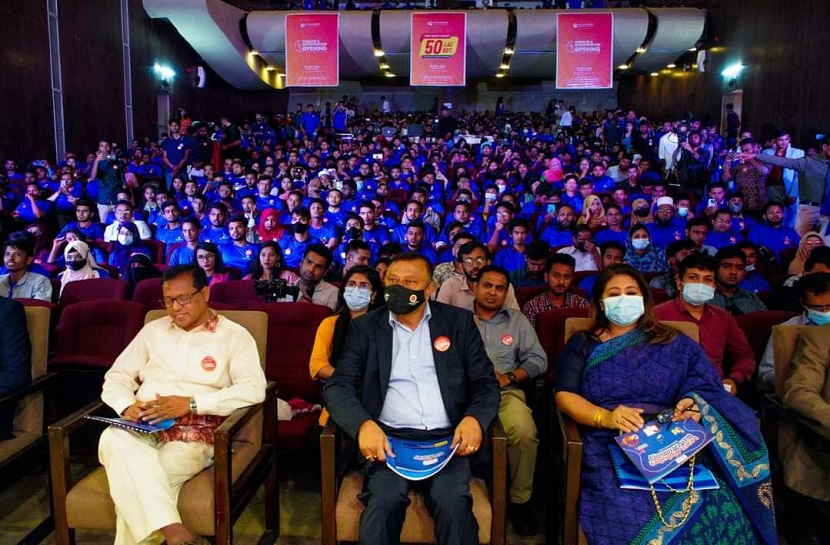 ICT Olympiad Bangladesh booths are being set up in various educational institutions across the country so that students from remote areas of the country can participate spontaneously in this competition. Ashraful Insan Ivan, one of the members of the governing body, expressed his hope that hundreds of thousands of students will participate in the competition.
After the welcome speech by ICT Olympiad Bangladesh Convenor Shamima Binte Jalil, Project Director Sohag Miah outlined the format and rules of the competition to the audience and the honored guests.
In this competition, pre-school to university students (up to 35 years old) can participate in a total of six categories, including education insurance, health insurance, courses, international study tours, bootcamps and a prize money of fifty lakh rupees.
Read more: Deaths and detections increased again
Arefin Dipu, a member of the governing body, said that in 2021, we started this competition from the idea of ​​how to make ICT education popular with the government and on 16th January 2022, Hon'ble Education Minister Dr. Dipu Moni gave us the courage to start this ICT Olympiad Bangladesh. Later, he expressed his thanks to the various government and private institutions that have come forward.
Another member of the governing body and information technologist Mohammad Shahriar Khan said, "We believe that this competition will be a milestone to make our students up to date in the fourth industrial revolution. Also, students can expand their ICT knowledge through skilled mentors up to five months after registration in the competition.
He said that ICT Olympiad Bangladesh is being organized keeping in mind that the students of Bangladesh advance through world-class knowledge in the ICT sector and they have already prepared various courses and books for 10 segments according to the age category of the students.
Read more: 8 models were raped on the shooting set
Monir Hossain, a member of the governing body of ICT Olympiad Bangladesh and CEO of Creative IT Institute, said that we have organized this event to popularize ICT education from pre-school to university (thirty-five years of age). Not only students, we want all parents to love ICT education without fear through this competition and spread that love to their children as well as society.
Because he thinks that parents and teachers should come forward first in order to adapt this generation to the fourth industrial revolution in our country.
Tarunyadeepta has e-learning organization Bright Skills as knowledge partner, e-Courier as logistics partner, e-learning partner Eduhive, payment partner Amar Pay.
In the last part of the program, all the teachers, mentors, division ambassadors, district ambassadors, central team and volunteers were distributed prizes and crests and the special attraction theme song of the program was announced.
ICT Olympiad website with thanks to all the organizers of the event https://ictolympiadbangladesh.com Open to all.
Sun News/HN
.