#London: 'Maharaj' Saurabh Gangopadhyay is in the mood for a shopping spree in London. Saurabh went shopping with his daughter Sana. Souravhar's picture with shopping bag is already viral on social media. It is seen that Sourav has three bags in his hand. As a result, it is understood that the former India captain has bought clothes very cheaply. However, daughter Sana also did not leave to beat her father. Sana has three bags in her hand in the viral picture. In other words, he competes with his father in shopping. Apart from the bag, Sourav has ice cream in his hand. Sana is busy eating ice cream while taking pictures.
The film also features former cricketer Jaideep Mukherjee, Sourav's close friend. Several family friends are also present. Looking at the whole picture, it is understood that Dada and company are in a relaxed mood after shopping and eating ice cream. Sourav is wearing a pink shirt in the picture. Dark blue pants and cap, sunglasses. It is clear from the picture that the board president is in a happy mood after shopping. There is a smile on the face. In fact, London has always been Sourav's favorite city. He also has a flat in front of the London Eye
Between shopping
.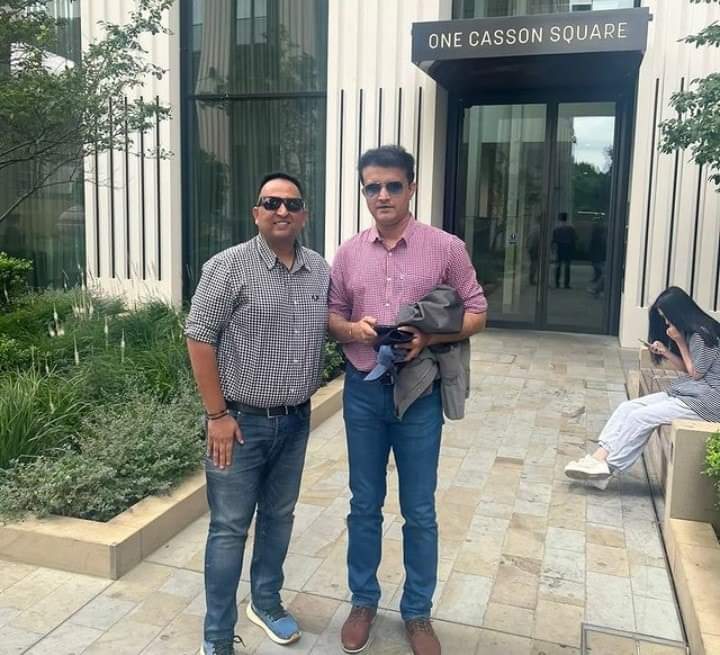 .
Read more: 'Ranveer Singh's Buttock Is Now A National Issue!', Live Show With Guests From Hese Khoon Chanchalika, Watch
Currently Sana is studying in London. So Saurabh spends time in London whenever he gets a chance. A few days ago, he posted a photo of himself walking the streets of London. Dada celebrated his 50th birthday in London. Sourav reached London at the end of June. Although he returned to Kolkata for a few days in the middle of July, the board president reached Birmingham again to attend the ICC meeting. Sourav is scheduled to return to Kolkata in August. His Majesty will visit the India Pakistan cricket match at the Commonwealth Games on Sunday. Before that, Saurabh was in a shopping mood.
Read more: The ground of Siliguri shook in the morning, great fear! Earthquake in Sikkim
Although Donna Gangopadhyay is not seen in the film, it is reported that she also went shopping with her grandfather. However, it is difficult to say whether this shopping is Puja shopping. Among all these, Saurabh has been exercising regularly in England as well. Sourav will play in an exhibition match on the occasion of 75 years of independence. He has already said that on social media. As a result, once again fans are waiting for Sourav's 22 yards with the bat
Be the first to read breaking news on News18 Bangla. There are daily fresh news, live updates of news. Read the most reliable Bangla news on News18 Bangla website.
Tags: Sana Ganguly, Sourav Ganguly
.